Uhlheck means owl forest. Mariana Leky shows in her book "What you can see from here" a portrait of a village in which everything is miraculously connected. Everything was staged in a linguistic wonder world, and we have tried to do this in our apartment-design.
A furnishing that has a lot to tell, that is close to nature, that makes it cosy – just "hygge".
Furnishing style
Here the Danish nature-loving Hygge style meets modern functionality:
The studio apartment welcomes two visitors at once – make yourself comfortable!
The rocking chair and wing chair invite you to stay for a longer time, even the beautifully designed workstation cannot shake it.
In the modern fitted kitchen you are very close to nature with the exclusive wall design.
Natural stone tiles combined with new and modern bathroom equipment.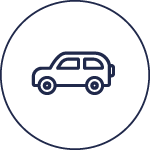 Parking
Park your car on our own parking lot. Your bicycles will also find their "home" with us. We provide a lockable bike-garage.
Fresh wet & beautiful dreams
Optional 1 double bed with the dimensions 1.80m x 2.00m or twice 0.90×2.00m. We provide you with professional bed linen and towels – naturally allergy friendly. You can also try our high-quality hotel cosmetics. Not only every hairdresser is happy about our hair dryer.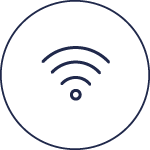 Technology that inspires
24/7 check-in system, high-speed W-LAN, 40-inch Smart TV with mirror technology for Android & Apple, Internet-enabled TV for your personal music and movie selection
For gourmets and chefs
New, modern fitted kitchen, equipped with crockery, pots, pans and cutlery, Nespresso coffee machine (for the environmentally conscious and frequent drinkers with recyclable capsules), microwave and oven, toaster, kettle
For working people and late homecomers
The trustworthy service: The filled refrigerator always offers a midnight snack, simply select from the range of products and book it right away.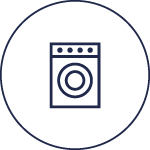 For cleaners
There is a washing machine and everything you need for ironing and cleaning. There is a possibility to hang up wet laundry in every apartment.
"In Selma's dream, the okapi stood on a meadow, close to the forest, in a group of fields and meadows, which are altogether called "Uhlheck". Uhlheck means "owl forest". […] Selma only looked at the okapi out of the corner of her eye from time to time, from below, just as one looks at someone one loves much more than one wants to reveal."
Mariana Leky: Was man von hier aus sehen kann
APARTMENT
Uhlheck – Book now
Field, forest, meadow: Feel at home!
Do you have any questions?