The newly renovated apartment invites you on a trip to 1930s England, the setting for Agatha Christie's crime novels about the lovably quirky Miss Marple. And when it comes to solving puzzles, she proves an absolutely sharp and logical mind.
So the apartment combines modern, well thought-out functionality with charming accents of a bygone era. Alone or as a couple, you can relax here and make yourself comfortable in a Victorian armchair with good books.
And then you can literally hear Miss Marple's invitation: "Another cup of tea?"
Furnishing style
Here new Victorian charm meets modern functionality:
Double bed made of mahogany wood in the combined living-bedroom – just like made for the English country house.
The Art Nouveau armchair from the period 1880-1900 tells its own stories.
Modern fitted kitchen combined with real wood furniture, which leaves nothing to be desired for the physical well-being.
New and modern bathroom equipment.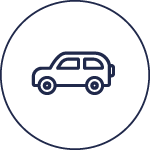 Parking
Park your car on our own parking lot. Your bicycles will also find their "home" with us. We provide a lockable bike-garage.
Fresh wet & beautiful dreams
1 double bed with the dimensions 1,80m x 2,00m. We provide you with professional bed linen and towels – naturally allergy friendly. Try our very high quality hotel cosmetics. Not only every hairdresser is happy about our hair dryer.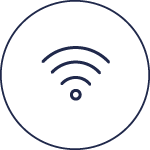 Technology that inspires
24/7 check-in system, high-speed W-LAN, 40-inch Smart TV with mirror technology for Android & Apple, Internet-enabled TV for your personal music and movie selection
For gourmets and chefs
New, modern fitted kitchen, equipped with crockery, pots, pans and cutlery, Nespresso coffee machine (for the environmentally conscious and frequent drinkers with recyclable capsules), microwave and oven, toaster, kettle.
For working people and late homecomers
The trustworthy service: The filled refrigerator always offers a midnight snack, simply select from the range of products and book it right away.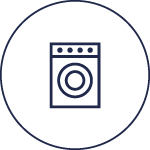 For cleaners
There is a washing machine and everything you need for ironing and cleaning. There is a possibility to hang up wet laundry in every apartment.
"You know, from the moment I first saw her, I thought: What a charming person she is!"
Agatha Christie: Murder Ahoy
APARTMENT
Miss Marple – Book now
Stay like in an English cottage: Feel at home!