The newly renovated studio was inspired by Delia Owen's book "Where the crawdads sing". It foams over with atmospheric descriptions of the American marsh landscape. Together with the young Kya, one drives through channels, observes flora and fauna and is with her far out in nature, where the crayfish sing.
This inspired us to create the interior design that makes the hearts of beach lovers beat faster.
Furnishing style
Beach style and modern functionality:
The studio apartment welcomes two visitors at the same time, the overcast bed promises a real vacation feeling.
Stylish seat cushions invite you to stay longer.
The book heroine Kya has collected and examined everything, in the studio you will find many of the drawn results.
Next to the dining table and chairs there is a counter – here you can sit barefoot.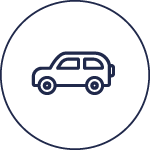 Parking
Park your car on our own parking lot. Your bicycles will also find their "home" with us. We provide a lockable bike-garage.
Fresh wet & beautiful dreams
Double bed with the dimensions 1,80m x 2,00m. We provide you with professional bed linen and towels – naturally allergy friendly. You can also try our high-quality hotel cosmetics. Not only every hairdresser is happy about our hair dryer.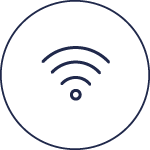 Technology that inspires
24/7 check-in system, high-speed W-LAN, 40-inch Smart TV with mirror technology for Android & Apple, Internet-enabled TV for your personal music and movie selection
For gourmets and chefs
New, modern fitted kitchen, equipped with crockery, pots, pans and cutlery, Nespresso coffee machine (for the environmentally conscious and frequent drinkers with recyclable capsules), microwave and oven, toaster, kettle.
For working people and late homecomers
The trustworthy service: The filled refrigerator always offers a midnight snack, simply select from the range of products and book it right away.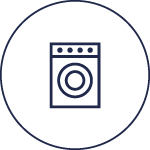 For cleaners
There is a washing machine and everything you need for ironing and cleaning. There is a possibility to hang up wet laundry in every apartment.
"The hut was a little far away from the palmettos, which stretched over sandwatts to a string of pearls of green lagoons, and behind it, in the distance, came the long march. Miles and miles of hardy sedge grass, which even grew in salt water, interrupted only by trees that the wind had bent at its will. Salt air and seagull cries penetrated from the sea through the trees." 
Owens, Delia: Where the crawdads sing
APARTMENT
Marschland – Book now
You like salty sea air and the feeling of sand under your feet?
Make yourself at home!
Do you have any questions?