Who does not know the books about Eberhofer Franz that made Rita Falk famous far beyond the borders of Bavaria. The provincial crime novels are set in the fictional Bavarian town of Niederkaltenkirchen, where the detective Eberhofer still lives on his farm at home. Here the regiment leads the grandmother, who makes sure that everything runs smoothly at home, for her Franz.
And that's how it works for you: it should be flawless – and urban Bavarian comfort.
Furnishing style
Bavarian-rustic in functional-modern:
Two bedrooms with workstations provide a space for retreat and promise comfortable relaxation.
In the modern eat-in kitchen, the classic pine corner bench invites you to eat and socialize together.
Bavarian-rustic is also always close to nature: The apartment is dominated by untreated woods and many decorative bonds from the local forests.
The bathroom is not rustic at all: new and modern bathroom equipment.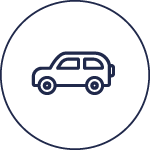 Parking
Park your car on our own parking lot. Your bicycles will also find their "home" with us. We provide a lockable bike-garage.
Fresh wet & beautiful dreams
2 bedrooms each with a bed measuring 0.90 m x 2.00 m. We provide you with professional bed linen and towels – naturally allergy friendly. You can also try our high-quality hotel cosmetics. Not only every hairdresser is happy about our hair dryer.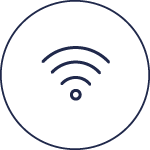 Technology that inspires
24/7 check-in system, high-speed W-LAN, 40-inch Smart TV with mirror technology for Android & Apple, Internet-enabled TV for your personal music and movie selection
For gourmets and chefs
New, modern fitted kitchen, equipped with crockery, pots, pans and cutlery, Nespresso coffee machine (for the environmentally conscious and frequent drinkers with recyclable capsules), microwave and oven, toaster, kettle.
For working people and late homecomers
The trustworthy service: The filled refrigerator always offers a midnight snack, simply select from the range of products and book it right away.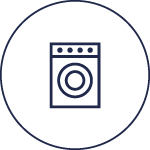 For cleaners
There is a washing machine and everything you need for ironing and cleaning. There is a possibility to hang up wet laundry in every apartment.
Leopold Eberhofer: "Yes, maybe somebody will call the police now!
Franz Eberhofer: "I am the police!"
Leopold Eberhofer: "I mean professionals!"
Rita Falk: sauerkraut coma
APARTMENT
Beim Franz – Book now
Everything in perfect order: Feel at home!
Do you have any questions?